Participatory art often is represented by aesthetics of repetition. Forms and formats, colours, proportions, amount of input that can be contributed,… is usually defined and given by the artists and is constructing a framework in which the audience / the user / a contributing person can interact. The artists leave it up to the audience,  that is generating a (huge amount of) input to the artwork mainly by coincidence and mostly with a playful interest.
This is the way i would also like to describe some of the works from Yayoi Kusama, for me the most well known Japanese artist of the post war period. Born in 1929 in Matsumoto, prefecture Nagano, the artist achieved internationally high profile when doing the unauthorized happening "Narcissus Garden"at Venice Biennial. She was not an invited artist for this biennial, but nevertheless offered 1500 reflective balls in front of the exhibition hall, each of them having an inscription marked "Your Narcisium For Sale" and with a price of Lira 1.200,- (which is equivalent to app. EUR 1,- ).
Beside this critique about the art market the artist was and is still interested to lift borders between her as an artist and the audience as well as between her and her environment. Since then Yayoi Kusama realized performances and happenings in interaction with an audience[i]. In her process oriented work "obliteration room " which was realized with the help of thousands of kids, the artist equipped a white room with white objects like white couches, white painted tables, chairs, TV sets,… and let the children stick to it with thousands of dots in different colours and sizes over a longer period. This work was designed for the Queensland Art Gallery's 'APT 2002: Asia Pacific Triennial of Contemporary Art.[ii]
An interest about coincidence, a playful approach, settled rules and a big (at first glance not countable) amount of contribution are the conditions that are accompanying active and intentional participation.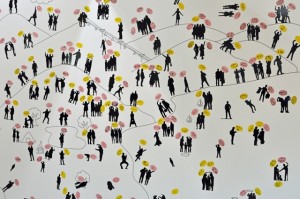 An example of similar aesthetics is the work Shadowgram by the Ars Electronica Futurelab (and also here two Japanese artists Emiko and Hideaki Ogawa have been mainly involved into the development of the project). This social brainstorming project that is exhibited at the Ars Electronica Center in the moment is inviting its visitors to create a shadow of them and to stick this silhouette s to the wall (after you have been captured by a camera one minute ago while you were standing in front of a light box. The system then sends the picture to a vinyl cutter and your shadow is done). In addition this installation is requesting written statements that are presented via speech bubbles: due to a special topic the visitors can even leave a message beside their shadow. It's impressive to see how convincing these silhouettes and the speech bubbles are representing so many different persons and personalities. It originates a collaborative "Gedankenraum" (room of minds) which is visually defined and bordered via the stickers and created by contributing visitors. In addition it serves as a room for imagination of all beholders.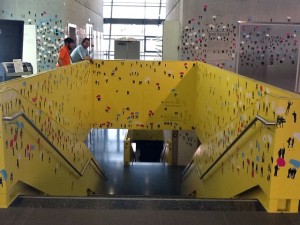 The two projects that are presented here in connection to each other have one major difference: while the space by Yayoi Kusama´s installation is well defined and bordered like a canvas, the format for Shadowgram is explosively extended day by day. However both projects are dealing with a major fact that is important for participatory processes: a playful approach that serves like a motor. And looking back into the European history of art, when the surrealists around André Breton met in Paris in the years of the 1920ies, an old parlour game about paper folding has been reinvented as new artistic practice called "Cadavre Exquis" (Exquisite Corpse)[iii].
But this is actually already the topic of one of the next blog entries here… coming soon…
---
[iii] Vgl. http://de.wikipedia.org/wiki/Cadavre_Exquis
Photocredits:
Installation view of "The obliteration room 2011? as part of 'Yayoi Kusama: Look Now, See Forever', Gallery of Modern Art, 2011 / © Yayoi Kusama, Yayoi Kusama Studio Inc. / Photograph: Mark Sherwoo
Shadowgram installation detail © Johannes Ramsl 2011
Shadowgram installation at Ars Electronica Center © Manuela Naveau 2012